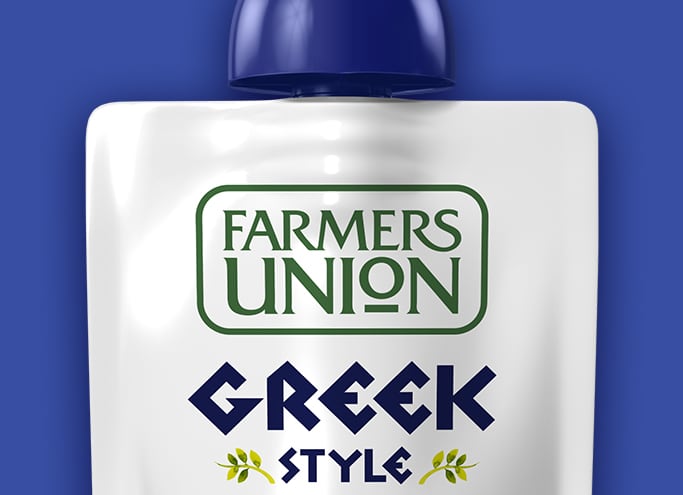 Farmers Union Greek Style Yogurt

Brand Adaptation

Packaging roll-out
Yogurt on the go.
Challenge: Building on its market leadership and excellent taste credentials Farmers Union Greek Style yogurt identified an opportunity to capture the growing desire for a healthy on-the-go snack option.
The pouch format is heavily saturated by kids' offerings so a gap existed to target adults looking for a natural, wholesome yet delicious snack. B! were briefed on extending the Farmers Union Greek Style brand into this successful snacking format.
Solution: Simplicity was key to delivering a range of Farmers Union pouches.
Using the purity of the white background from the Farmers Union Masterbrand, that is synonymous with health and greek yogurt, gave us the ideal canvas to project simple delicious cameos and vibrant, flavour communication.
The overall range feels tonally very modern, with a result that is high on naturalness and energy from a bright colour palette.
The pouches lets the flavours do all the talking and people are listening. A growing range that's on the move.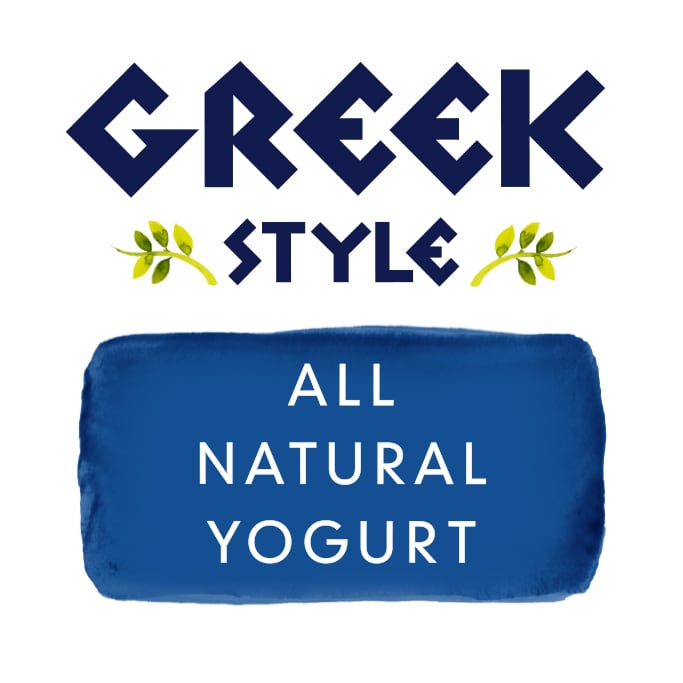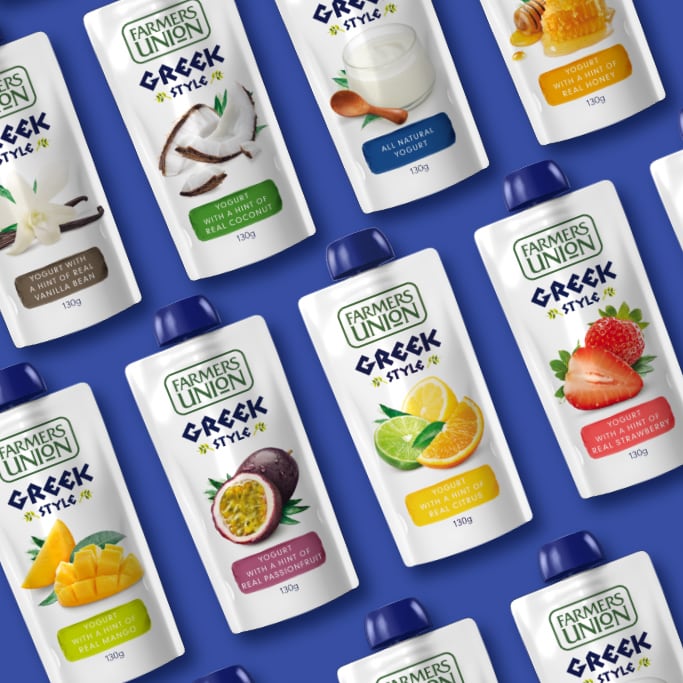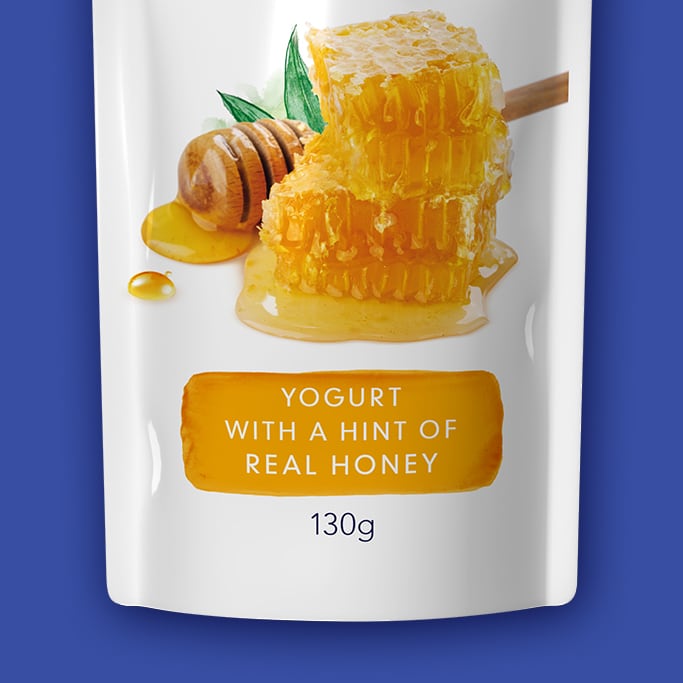 Farmers Union Greek Style 'Crunch'

Naming

Packaging Design

Photography
Crunch time!
Challenge: Farmers Union is Australia's most loved Greek style yogurt… so naturally it has the best platform to extend into different formats, sizes and occasions.
Snacking is going gangbusters so it was only natural to matching this sought after yogurt with mixed toppings of nuts and seed and crunchy delicious fruit pieces – adding the Crunch!
Solution: Established competitors in this market were firmly positioned in the treat space, so we presented a more wholesome offering. Focusing on our nutritious 'real' inclusions and quality Greek yogurt through a pure colour palette and abundant food photography.
A hand-painted type style added to the 'crafted' feel of the range and provided great standout on an extremely busy fixture.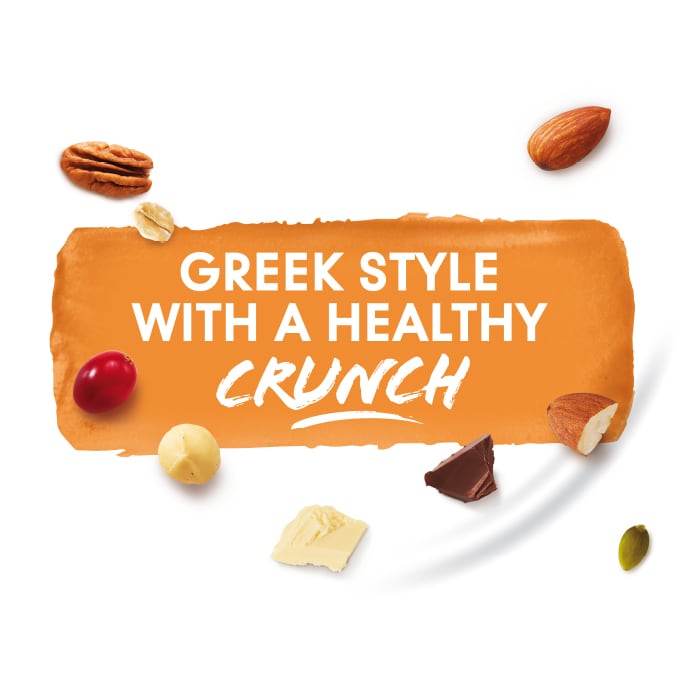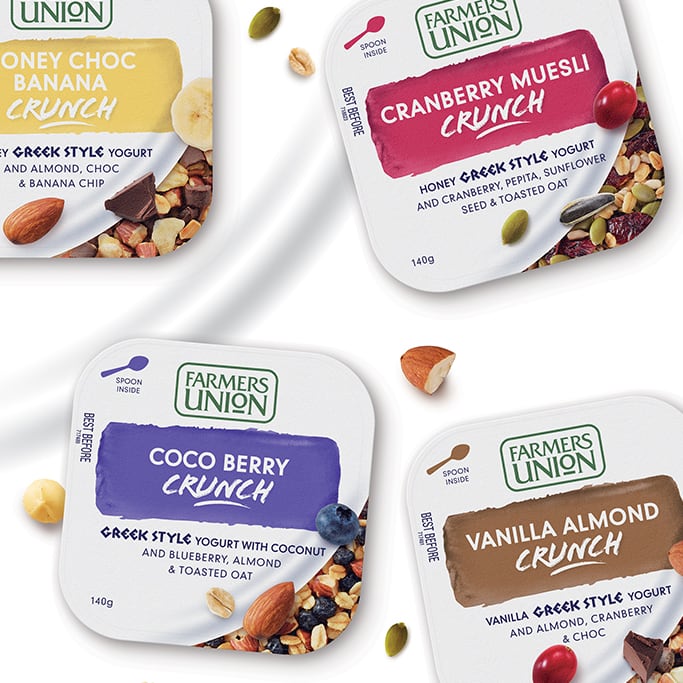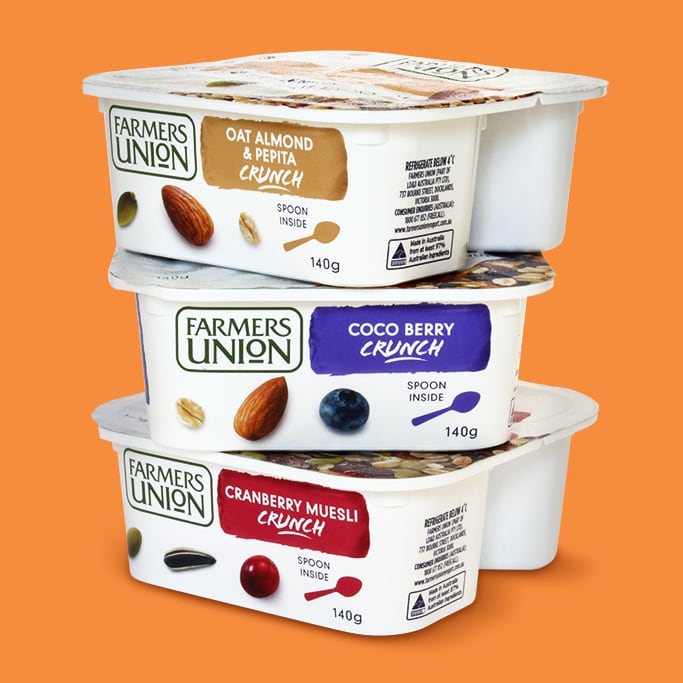 Farmers Union Edge

Packaging Design

Production Management
Cutting edge iced coffee.
Challenge: It's no secret Farmers Union is South Australia's favourite iced coffee. Research indicated that consumers were using Farmers Union Iced Coffee as more than just a refreshing beverage, it was also a meal replacement; sometimes for breakfast or to tide them over until lunch.
Spotting an opportunity to cater specifically to that meal replacement occasion, the Farmers Union team briefed B! Brand to develop naming and packaging for a new Iced Coffee with added protein and fibre.
Solution: To differentiate from other satiety and replacement offerings, B! Brand chose to highlight the energy benefits of added protein and fibre. The 'EDGE' sub-brand and bold orange strip quickly communicate the point of difference. While the strong use of teal and white reassure brand loyalists that this is still a part of the Famers Union family.
Now Farmers Union fans both old and new are embracing this tasty fuel and adding it to their iced coffee repertoire.