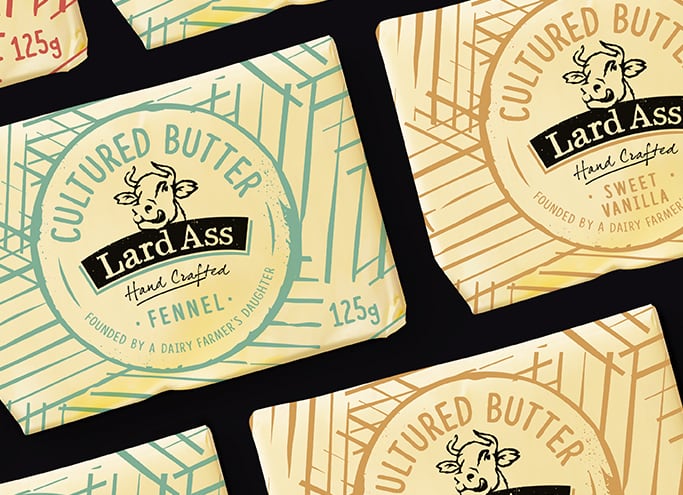 Lard Ass

Brand Development

Packaging

Print Management
Does my butter look big in this?
Challenge: Founded by a dairy farmer's daughter Lard Ass Hand Crafted Butter is produced using hand made traditional methods. As a range that is growing beyond farmer's markets and gaining traction at provedores, cafes and vineyards, Lard Ass needed to create packaging to reflect the quality of the product whilst retaining the authenticity of the hand crafted process. And at the same time promote the different, unique butters that have a flavour twist imbued.
To garner attention as a niche player it needed to make some noise. Hence the logo and brand name is big on personality.
Solution: B! Brand created a crafted look and feel using 'hand-drawn' typography, distressed graphics on a buff coloured wrap with a pastel colour palette to differentiate variants. This reflected the imprint of the butter paddle used to craft the butter. This new packaging will support Lard Ass' expansion and position the range as a great tasting butter.
Lard Ass is an authentic hand crafted butter with a ballsy name thats determined to kick some butt.